Interested in how to run programs and increase resilience during coronavirus? The spread of the coronavirus has quickly become one of the biggest threats to the global economy and financial markets. The disease is spreading so rapidly around the world, as shown in Figure 1, which illustrates that confirmed cases reached over 800,000 people worldwide, with over 40,000 deaths. 
Figure 1 COVID-19 Worldwide Situation 01.04.2020(WHO)
"From an economic perspective, the key issue is not just the number of cases of COVID-19, but the level of disruption to economies from containment measures," Ben May, the head of global macro research at Oxford Economics said (CNBC, 2020) fears of the coronavirus impact on the global economy have affected markets worldwide. The Organisation for Economic Co-operation and Development's (OECD) 2020 growth forecasts have decreased for almost all economies, as shown in Figure 2.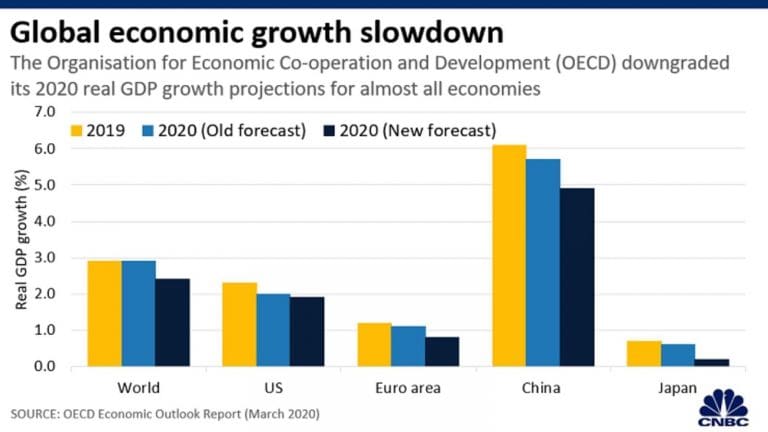 Figure 3.2 Global Economic Slowdown projection of OECD – March 2020
The coronavirus has been testing company's resilience, which is the ability of an organization and its accompanying critical business processes to withstand or recover from a business interruption. Figure 3 shows a model for the elements of resilience.

Figure 3 Four Rs of Resilience (Kliem & Richie, 2016)
When an organization confronts an interruption when operating normally, the first thing is to respond, that is to, apply processes, procedures, and actions as quickly as possible to prevent, mitigate, or avoid the impact of a negative incident (Kliem & Richie, 2016). In the case of the coronavirus outbreak, industries are at this phase now. So how can companies transition to the recovery phase, that is, take actions that will lead to the resumption of its business process and, ultimately, return to normal operations. There may be various answers to this question; however, a program management approach will certainly help companies find ways to cope with this outbreak and start the recovery phase.
Programs are initiated to gain benefits. These days the most important benefits are the ones that contribute to starting the recovery of the company, not the benefits that contribute to strategic objectives. Thus first, we should focus on the identification of benefits to adapt to this new situation. So, how can your company run programs and increase resilience during coronavirus?
Identify benefits leading to recovery
The benefits may be both tangible and intangible. In the days of crises, intangible benefits may gain more importance, like the ones that support the employees.
Focus on supporting employees
Organizations will need to "develop a plan to support employees that is consistent with conservative health and safety guidelines" (BCG, Mysore &  Usher, 2020). The plan needs to be flexible enough to allow for policy changes. Deal with human tragedy as a priority. Arrange the resources of your projects such that this arrangement can create the benefit of saving your team members and employees.
Increase communications dramatically
Establish and maintain communications platforms and manage multichannel communication. In a crisis, it's hard to find clarity since the information and the situation are constantly changing. Reeves and his friends (2020) suggest that employees and customers should be communicated with consistent and timely information.
Use the power of a network of teams
It's difficult and not effective to quickly collect information and make wise decisions based on this information for executives. Leaders can better empower others who can reach the necessary information almost in real-time to make decisions. 
To promote effective and agile problem solving, especially under high-stress and chaotic conditions like now, leaders can organize a network of teams. BCG (2020) calls this "nerve-center integration team," which is based on five cross-functional teams. This integration team can include members from different functions and projects. 
Relocate labor flexibility to different activities
Some service companies were hit very hard, such as restaurants in which employees were unable to carry on their regular activities. This mostly led to layoffs. On the other hand, some creative Chinese enterprises actively reallocated employees to new valuable activities like recovery planning or even loaned them to other companies. Reeves and his friends (2020) found that more than 40 restaurants, hotels, and cinemas shared their staffing with Hema, a new retail supermarket chain, which was in urgent need of labor for delivery services due to the sudden increase in online purchases. Some of your projects may stop due to the current conditions; however, program managers should think about shifting the resources of these stopped projects to other available projects or other operating functions of the company if possible.
Prepare for a faster recovery
While the depth and duration of the economic impact are difficult to forecast, China's experience points to a scenario that companies should prepare for the recovery even if you're still reacting to the crisis. Reeves and his friends (2020) found that a premium Chinese travel agency encouraged employees to use their time to upgrade internal systems, improve skills, and design new services instead of reducing headcount. Program Managers should consider improving the skills of the project teams for the future.
Increasing resilience should be one of the strategic objectives for organizations not only during crisis times but also especially before it happens. Programs should also focus on identifying and realizing benefits leading to resilience.
References: 
*BCG (Boston Consulting Group), 2020. Covid-19 Consumer Sentiment Snapshot #1  (https://bcghendersoninstitute.com/how-will-things-be-different-when-its-all-over-513900bfb0af)
*CNBC, 2020. Services ve Manufacturing Compare (https://www.cnbc.com/2020/03/12/coronavirus-impact-on-global-economy-financial-markets-in-6-charts.html)
*D'Auria, G., Smet, A., 2020. Leadership in a Crisis.  McKinsey & Company. (https://www.mckinsey.com/business-functions/organization/our-insights/leadership-in-a-crisis-responding-to-the-coronavirus-outbreak-and-future-challenges)
*Kliem, G. D., Richie, R. L., 2016. Business Continuity Planning A Project Management Approach. CRC Press.
*Reeves, M., Faeste, L., Chen, C., Carlsson, P., Whitaker, K., 2020. How Chinese Companies Have Responded to Coronavirus. Harvard Business Review. (https://hbr.org/2020/03/how-chinese-companies-have-responded-to-coronavirus)
Similar Content: