Looking for a minimalist yet powerful task and project management tool to help you get and keep your project tasks on track with ease? Think MeisterTask. Successfully managing tasks and projects is no easy undertaking, especially now, with many teams working remotely. MeisterTask adapts to your company's project needs to help your teams manage less yet do more.
---
Over the past year, the COVID-19 pandemic has hit companies around the world hard, making it more complicated than ever to manage projects and team collaboration. This has increased the need for Project Management Offices (PMOs) to get on board with adopting more powerful task and Project Management tools such as MeisterTask, created by Meister. Their cost-effective solution helps teams become more organized and aligned from any location. After taking a closer look at MeisterTask, I wanted to share more about this solution, its features, and my rating.
What is MeisterTask?
MeisterTask is an online task management tool that helps teams track task progress — all within a single board. The interface is clean, easy to use, and easy to customize, yet there's so much information that can be added to provide collaborators with what they need when they most need it. There are four pricing options available to fit every project: Basic, Pro, Business, and Enterprise. Regardless of the plan you choose, Basic, Pro, and Business users can work together on projects.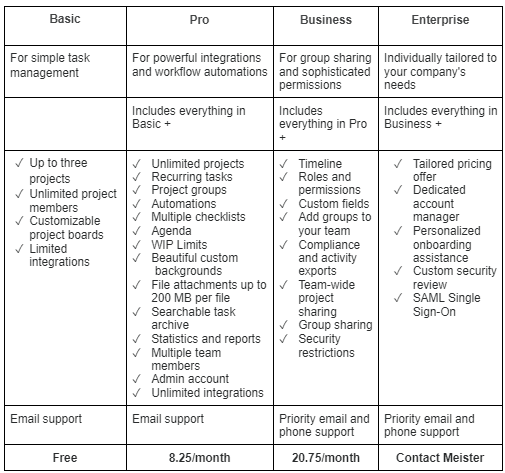 Who should use MeisterTask?
MeisterTask works for companies of all sizes and verticals looking to digitally transform their processes, including:
Construction

Finance

Manufacturing

Municipalities

Service-based organizations

Other agencies
Marketing, IT, design, and many other teams can benefit from the features offered by MeisterTask.
In addition to the capabilities mentioned above, here are some top features of MeisterTask that can help your teams do more with less effort.
A Dashboard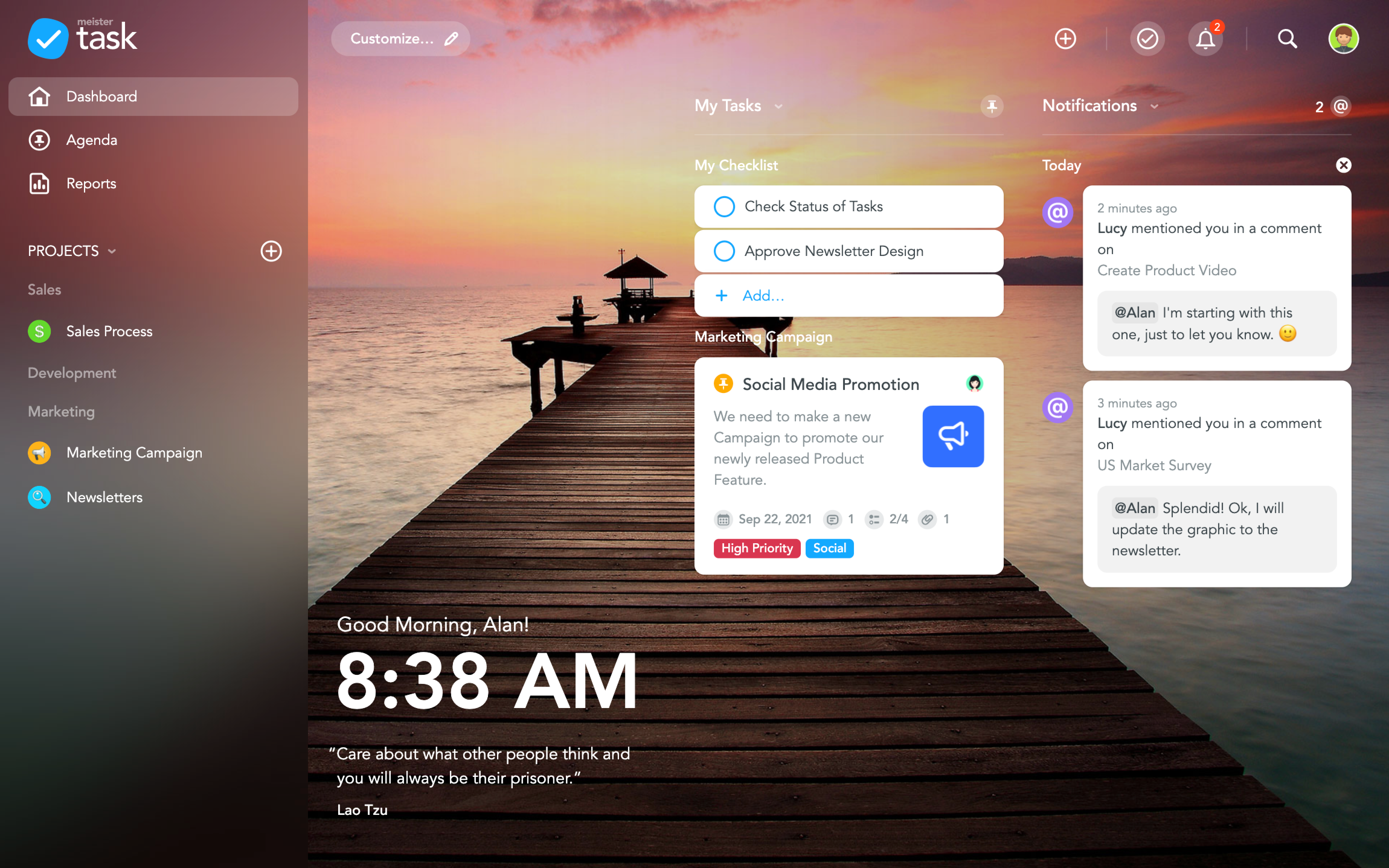 Your dashboard is your base when using MeisterTask. It can be customized to give you the overview suitable to your working style — whether that means that all your items are displayed in detail or are hidden altogether. Choose a background image, show or hide your notifications and tasks assigned to you, and quickly access your projects, Agenda, and Reports.
Agenda
Agenda is a feature that allows you to work on multiple projects at the same time. It's your personal Kanban-style board that you can set up any way you like: according to priority, your individual workflow, days of the week, etc. Each section you set up corresponds to a pin that you've defined. You can pin tasks from every project that you're a member of to your Agenda, making it easy for you to keep a handle on your to-dos across multiple projects.
Kanban view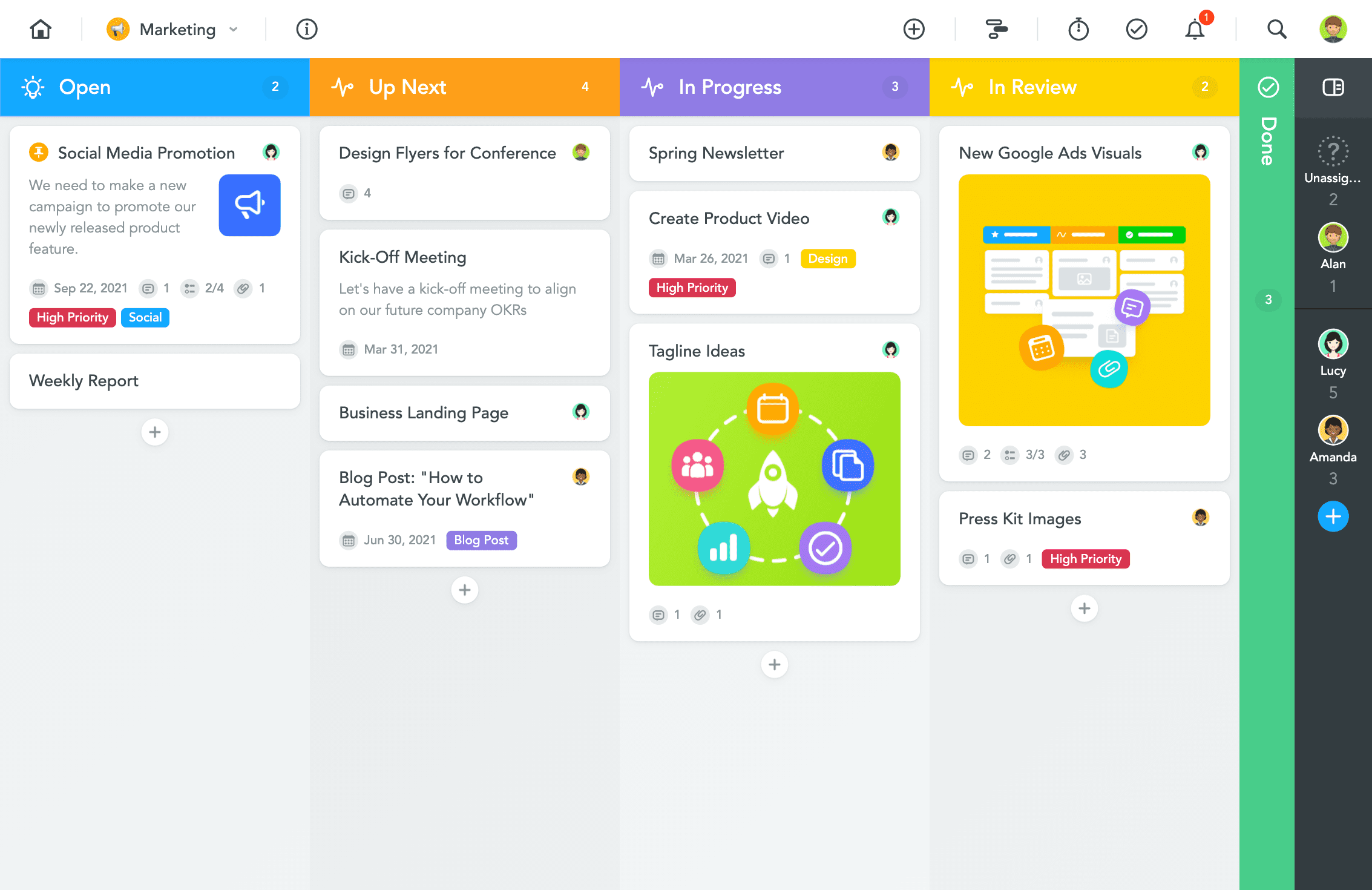 Using the Kanban view, your workflows can be made as basic or as complex as you'd like — and tasks can be moved to any board, regardless of whom it has been assigned. Within each board, Work-In-Progress (WIP) can easily be defined by setting task limits, and tasks can also be automated. The Kanban interface is customizable to make each board and task status stand out so that it's easy on the eyes.
Timeline view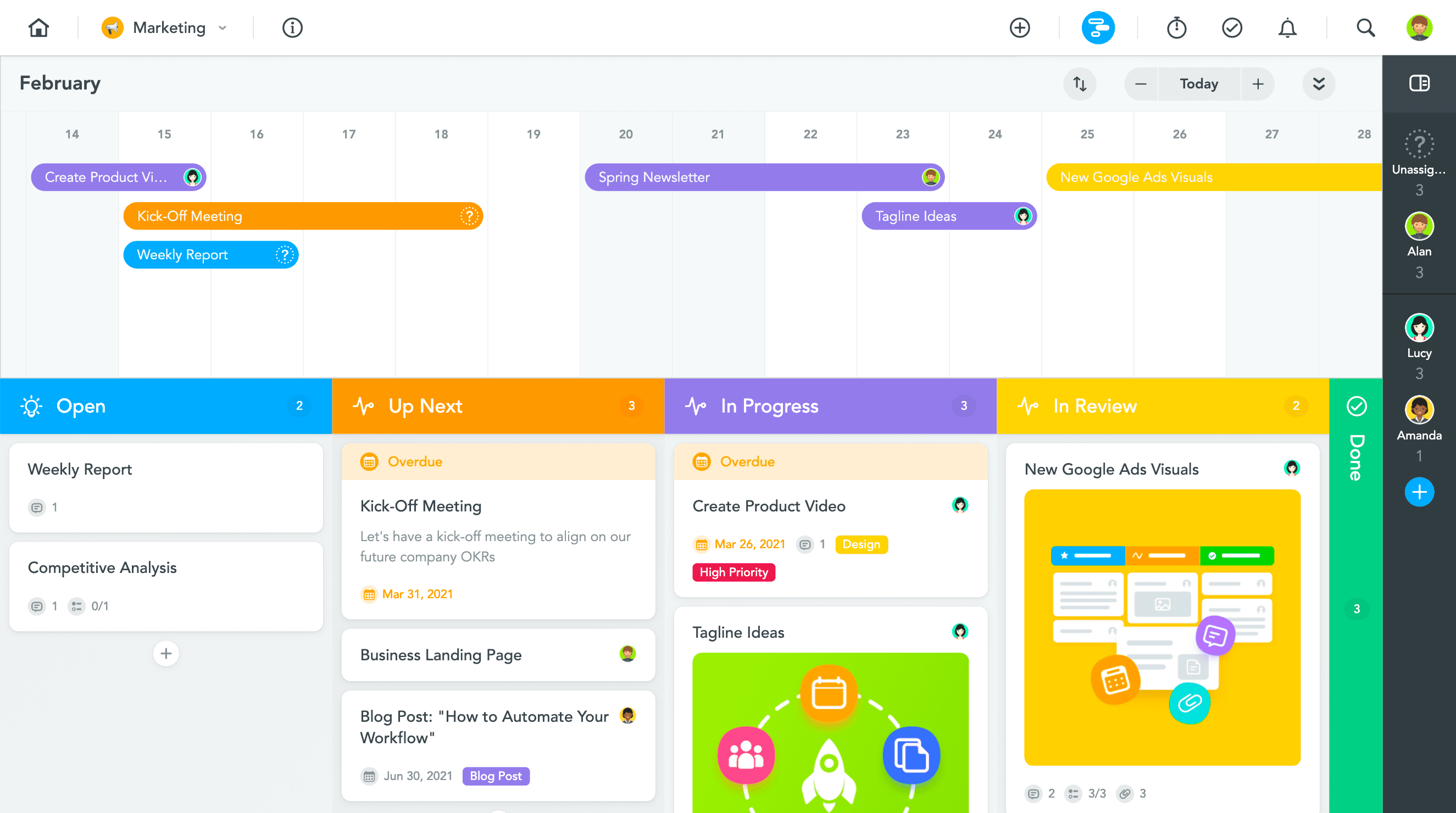 Most project managers will be familiar with this as a Gantt Chart view. As start and end date fields are added, this view takes shape and, as other views such as the Kanban view are updated with dates, the timeline view is automatically aggregated or updated.
Customizable tasks
With MeisterTask Basic and Pro, task descriptions, due dates, multiple checklists, attachments, and comments can be added with ease. MeisterTask Business and Enterprise plans offer the ability to add custom fields to tasks within projects making it easy to collect information needed regularly. Custom fields that can be added include text, numeric fields, or dropdown lists.
Task automation
Automations are available on the Pro plan upwards and allows you to quickly and easily automate actions such as:
Assigning of tasks

Moving tasks

Time tracking

Add predefined checklists to assigned tasks

Sending emails

Updating task status

Updating due dates

Adding tags

Adding recurring tasks

(a huge time-saver)

Sending messages using Slack
App integrations
With the Pro and Business plan, you can take advantage of many project board app interactions such as Slack, Hangouts Chat, Microsoft Teams, Outlook 365, Outlook, Zendesk, GSuite, Box, Dropbox, and numerous other popular integrations. MeisterTask also allows your company to create its own integrations through its powerful API.
Project Reporting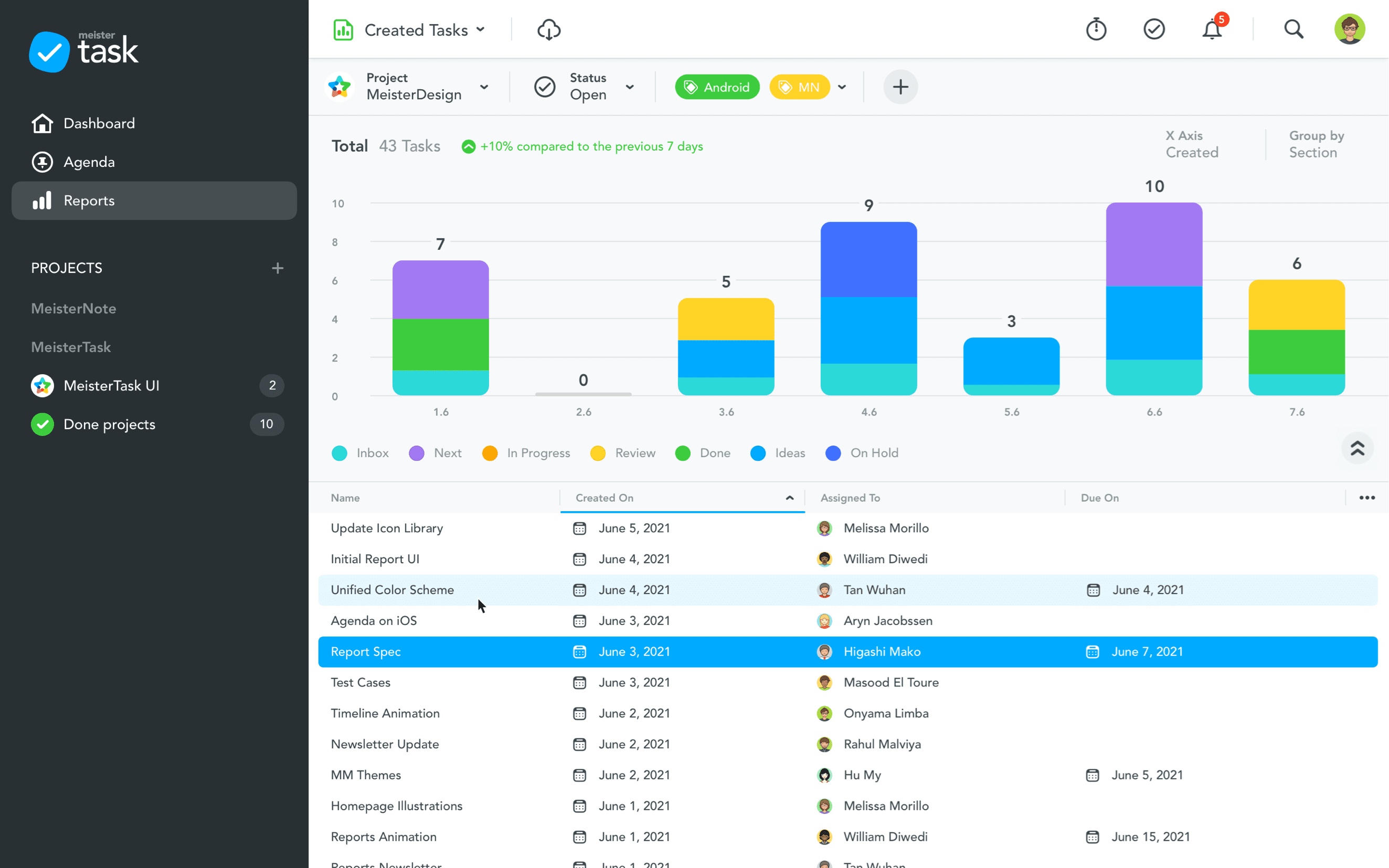 By clicking on the reports menu option in your dashboard, MeisterTask allows you to access, customize, and export various reports to a CSV format. Reports can also be added to existing projects as documents or sent to clients and other stakeholders with just a few clicks.
Security restrictions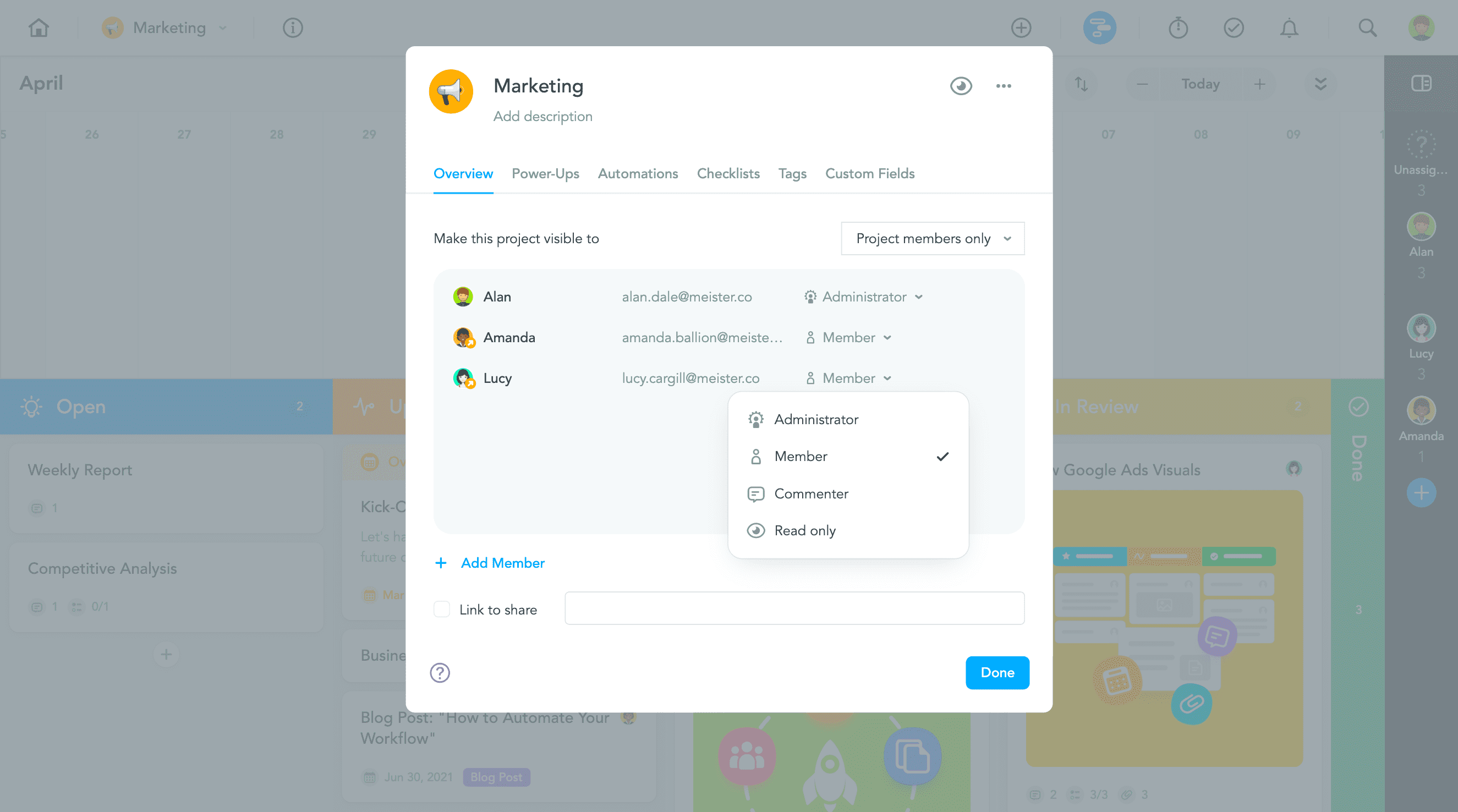 When it comes to security, projects can be set as public or private, and roles and permissions can be set to fit within standard industry guidelines. Role access includes administrators, members, commentators, or read-only:
Administrators

have the highest-level access and can set up and archive projects.

Members

have access to work on tasks within the project but cannot alter the project set-up, details, collaborator access, or structure.

Commentators

only have permission to add comments to tasks.

Read-only

access simply allows individuals to view the project and/or tasks.
Security restrictions can be set for one individual at-a-time or for an entire group. Administrators can also restrict user access based on other variables such as domains.
Mobile Apps for teams on-the-go
As more team members are working remotely, having project and task access is essential. MeisterTask makes this possible whether you're using an iOS or Android mobile device, Mac or Windows desktop.
Overall, MeisterTask offers teams quite a few powerful features to lighten their workload on projects of all sizes. It's a streamlined, attractive, and clean project management tool that your project teams can use to get up and running fast — and complete projects with minimal effort or training. Here are my final thoughts on MeisterTask.
Overall rating


4.5 out of 5
After spending some time looking at MeisterTask, I found it to be a far more intuitive online task and project management tool than I initially expected. I was very impressed with how simple it is to navigate. Teams will find it a breeze to set up and change projects or tasks — and this is significant for companies of all sizes as they look for ways to simplify the managing of complex projects for remote teams. MeisterTask has created a vibrant visual interface with a super-clean minimalist design that is easy to use. All of this, with the affordable capabilities of some of the better-known, larger players in the space. Contact MeisterTask to find out more, sign up for a webinar, or gain access to a free trial.
Meister also offers a mind mapping tool called MindMeister that's worth looking into. Check back later to see if we have a product review of it as well. If you want to know more about Meister as a company, download their press kit.