As a project manager, you'll know that your professional learning doesn't stop after you pass the Project Management Professional (PMP)® exam. Every day is a learning day on some projects!
The skills you need to deliver successful projects also evolve over time, depending on the industry you are in and the type of work you are doing. If you asked your colleagues, or your peers at a Project Management Institute (PMI)® Chapter event, what makes a good project manager, you would hear as many responses as people asked. Being a successful project manager means developing a vast range of skills, competencies, and behaviors.
How do you do that? More importantly, what skills exactly are we talking about? The PMI Talent Triangle™ answers both those questions by providing a framework for your ongoing professional development. The PMI Triangle covers three distinct areas, and in this article, we'll explain how it works, and how you can map your PDUs to the Talent Triangle.  
What is the PMI Talent Triangle™?
The PMI Talent Triangle is at the center for the Continuing Certification Requirements System (CCRS). The Continuing Certification Requirements Handbook sets out the guidelines and policies for earning PDUs.
Therefore, if you want to earn PMI PDUs and continue your certification with PMI, you need to understand the Talent Triangle.
PMI created the Talent Triangle after consulting with many project managers and industry experts from around the world about what makes an excellent project manager. The Triangle reflects the broad skills and requirements for acting as a professional project manager. It represents the ideal skill set for someone in the role of a project manager.
The Talent Triangle reflects the fact that project management isn't simply about the 'hard' skills of technical disciplines like scheduling or project financial management. To be successful as a project manager, you need to be able to draw on a wide range of business management and leadership skills, and that's what the Triangle is all about.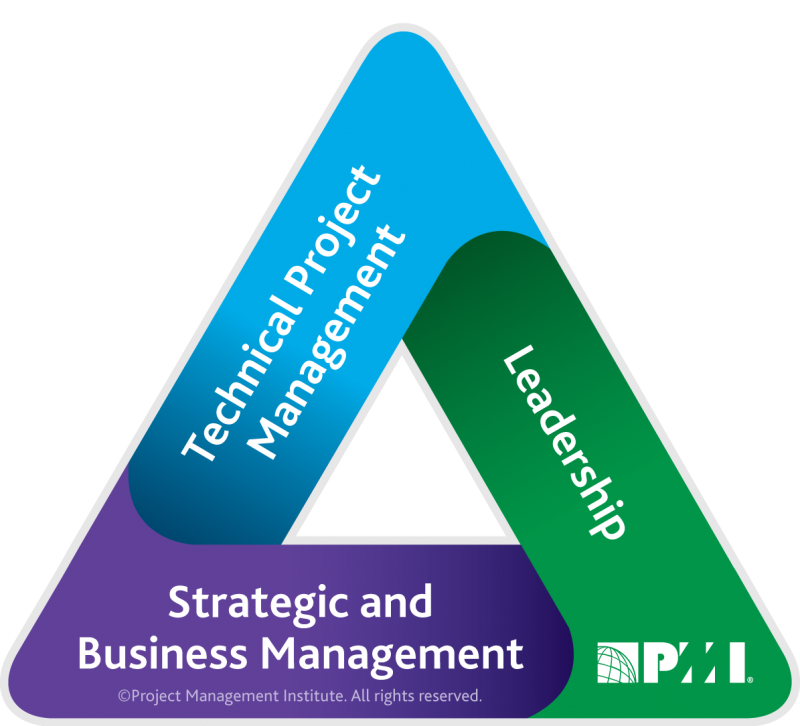 Source: Project Management Institute (PMI)
Next, let's look at the three sides of the Talent Triangle in detail.
Technical Project Management
PMI describes technical project management like this:
"Knowledge, skills, and behaviors related to specific domains of Project, Program, and Portfolio Management."
Technical project management skills help you carry out your role and do the specific tasks that relate to keeping a project on track to deliver the desired outputs. For example, these include carrying out the risk management process. As a project manager, you know to identify risks, analyze their impact, select an appropriate risk response and create an action plan to manage the risk, monitoring your progress and changing your responses accordingly as the situation evolves. That is a part of the domain expertise required to deliver a project.